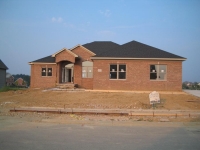 Construction damage is one of the most common causes of tree death and decline in urban areas. As cities and suburbs expand, wooded lands are being developed into commercial and residential sites.
Buildings are erected in the midst of trees to take advantage of aesthetic value of wooded lots. Unfortunately, if proper steps are not taken to ensure their survival, many of the trees will be lost in subsequent years. Often, Builders and Developers choose these wooded sites over vacant lots because they increase the value, often by several thousands of dollars. However, unless measures are taken to protect the trees, they are likely to die after construction; this can lead to a very disappointed client.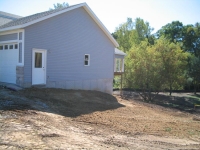 An arborist can help decide which trees are suitable for saving and can work with the builder to protect the trees throughout each phase of construction. Understanding how to minimize construction injury is based on knowledge of tree physiology and the components need for tree health, as well as understanding construction practices. Scott has a very deep understanding of all aspects of construction, raised by a family of builders; he literately grew up on the jobsite.
If trees are to be preserved on construction sites, you cannot wait until the digging begins. The quicker, the better, Call Economy Tree in the very beginning of you planning process, Scott can do a site assessment as soon as plans are available. Scott can develop a complete landscape plan that details the location of trees, shrubs and any other landscape feature in relation to the building, roads and infrastructure. The earlier in the process that an Arborist becomes involved, the better the chance of success.
Only healthy, structurally sound trees should be preserved. Each subcontractor must understand the purpose of the barriers, limitations, and specified work zones. It is a good idea to post signs as a reminder. It is important to work together as a team. The best-laid plans between arborist and builder can be destroyed by uninformed subcontractor. It is not unusual to go to great lengths to preserve trees during construction, only to have them injured during landscaping. Installing irrigation systems and rototilling planting beds are two ways the root systems of trees can be damaged. There are remedial treatments that an arborist can use to help reduce stress and improve the growing conditions around the trees, but these treatments are few. Unfortunately, the ability to restore trees damaged by construction is very limited, and this is why the emphasis should be placed on protection. Although the goal is to preserve trees whenever possible, the goal must not supersede any question of safety.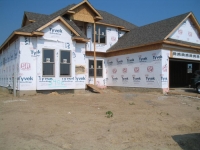 With Scott's background in construction, he understands the needs of the builder. Working with several builders already, Scott has great amount of experience working on construction sites along side of multiple sub-contractors, all at the same time. Economy Tree has multiple contacts in all aspects of development and is able to provide all services concerning the Landscape. Scott only uses the highest caliber specialists, as subcontractors on large scale, high-end or commercial grade landscape projects. Scott has saved multiple projects from losing their trees.
Builders may find that they do not have the time to handle issues concerning the landscape; Economy has acted as the Landscape General Contractor for Builders and Developers several times and has been called in "the day before" to refresh, install upgrades and finish were others have left off, to complete a project for a special occasion such as a Open House or Grand Opening.
Builders and Developers do not want headaches, they want happy clients. You can handle all of your tree and landscape needs with one call to the expert's at Economy Tree, freeing your time to work on more important issues, like the next project!